Dukha Reindeer Herders Tour in Mongolia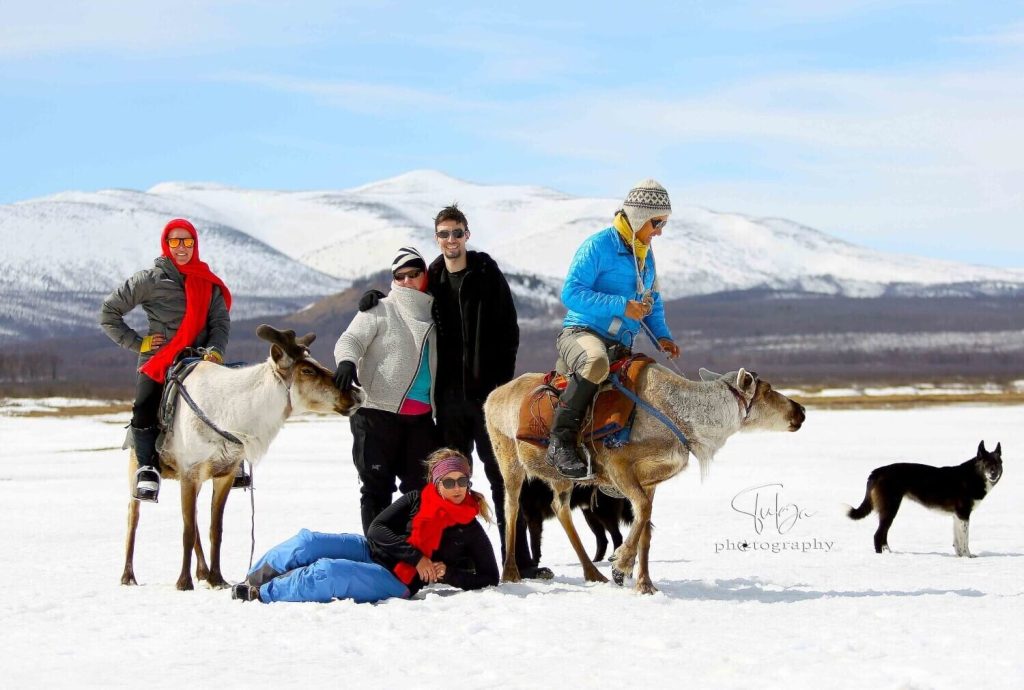 Whenever the cold weather swings around, our travel daydreams tend to fluctuate between two very different types of vacations, a winter adventure, and a cozy comfortable journey. On this winter adventure, you will visit the Nomadic Reindeer Herders of Mongolia, also known as the Tsaatan people, and Dukha. The tour offers both comfortable traveling conditions as well as an adventure of a lifetime. For a summer tour to visit the Tsaatan, check out our Dukha Mongolia Adventure.
As one of our best-selling tours since 2007, this Winter adventure tour offers you several famous destinations in Mongolia. For instance, Khuvsgul Lake – the blue pearl of Mongolia, and Ulaan Taiga National Park where the Tsaatan tribe of Mongolia are but truly, every single acre of the park is worth seeing in person. Visit during the winter to avoid the crowds and see the landscapes filled with steam from the thermal features.
Unravel the history, culture, and way of life of the Dukha while spending 2 unforgettable days at a Dukha winter settlement. Immerse yourself in the ancient culture and wisdom of the Dukha that still remains largely an enigma.
Epic scenery of snowy southern edge of Siberia
Witness the winter life of a nomad Reindeer herder Tribe
Enjoy the hospitality of a local family
Be a part of " Everyday life activities of Nomads", such as making dairy products
Meet face to face with the reindeer tribe shaman
Relax with the stunning view of Khuvsgul Lake, the Blue Pearl of Mongolia
Go Horse Sledding with us on the translucent ice of Khuvsgul Lake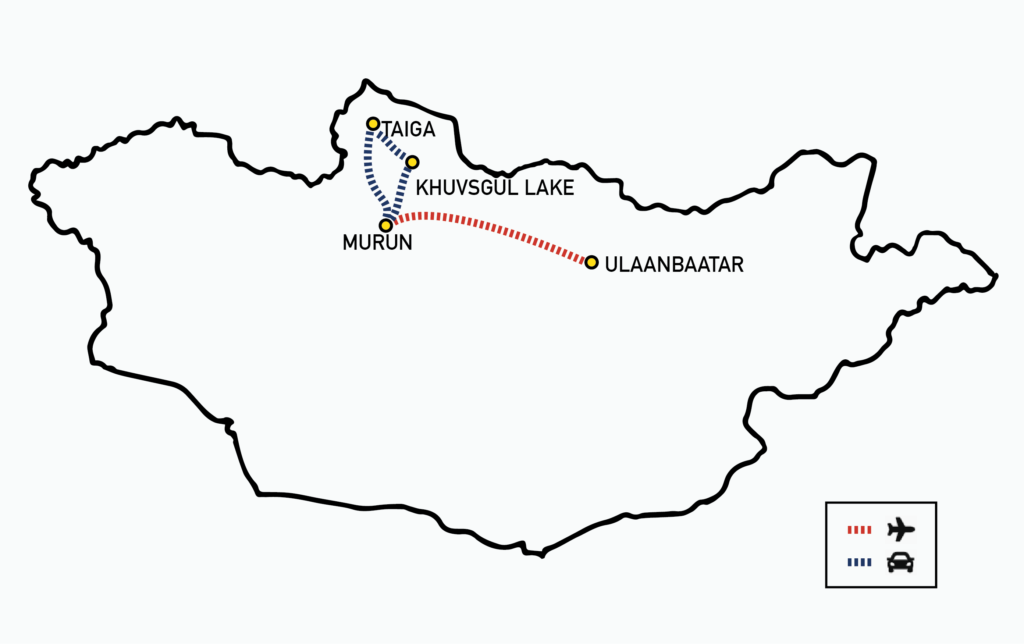 Day-1 ULAANBAATAR CITY
We meet you upon arrival and transfer you to the hotel. Depending on your arrival time we will visit the National History Museum with priceless treasures.
Welcome dinner. Hotel /L,D/
Day-2 ULAANBAATAR / MURUN TOWN /
This morning we transfer to the airport and take a flight to Murun town, the center of Khuvsgul province in the northern parts of Mongolia. It takes 1 hour. Here, we visit the town and supermarket for some snacks and refreshments and return to our local hotels. Local hotel /B,L,D/
Day-3 MURUN TOWN – ULAAN UUL TOWN
On this day we are driving through Mountainous areas to Ulaan Uul town. This day visit to main Ovoo, where we can make an offering. Then we will be in the Darkhad Depression, where there are more than 300 lakes and big rivers. We arrive at Ulaan Uul town and transfer to the log cabin in the National Park Rangers station. Log cabin /B,L,D/
Day-4 ULAAN UUL TOWN – KHOGOROG
Continuing through the beautiful Darkhad depression yet again the landscape unfolds dramatically right before your eyes as we transition from steppe to mountains and forest. We pass Tsagaan Nuur town on the way to reach the Khogorog river, where a local family resides.
Get to know more about the local family while enjoying their hospitality. Stay in a traditional Mongolian yurt – Ger for an authentic local experience. Guest ger /B,L,D/
Day-5 KHOGOROG – TAIGA / REINDEER TRIBE CAMP
After a hearty breakfast from Nomadic Trails' private cook, enjoy a short early morning walk around the area. Returning to the cars, we drive through snow-covered roads to the Winter and Spring camping site for the Mongolian Reindeer Herders. After arrival, transfer to local huts or Tee-pee which will be the accommodation for the night.
We meet with the local reindeer herders and spend the rest of the day among the tribe, getting to know the culture, even participating in some. For example, riding a reindeer, etc Hut /B,L,D/
Day-6 TAIGA / REINDEER TRIBE CAMP
Spend this day staying amongst the Tsaachin people and experience their everyday life.
Enjoy the tribe's hospitality by talking with the local people and understanding their local culture and how they have managed to maintain such a traditional way of life for so long. Take in the beauty of the snow-covered forest. Hut /B,L,D/
Day-7 TAIGA / REINDEER TRIBE CAMP – KHOGOROG
In the morning, you spend more time with the Reindeer tribe today and witness what their mornings usually look like. After saying farewells to the Dukha Tribe families, we return to Khogorog and relax for the day with the local family. Ger /B,L,D/
Day-8 KHOGOROG- KHATGAL TOWN / KHUVSGUL LAKE
We say goodbye to the local family and have the longest drive of the trip, an 8-9hour drive across Darhad Depression, and head to Khuvsgul Lake, the largest freshwater lake in Mongolia.
Khuvsgul often called "The Blue Pearl of Mongolia" lies in the Siberian plain south of the Russian border. This gorgeous lake is frozen for almost half of the year. It is surrounded by forests of pine trees and meadows. Depending on ice density, we may drive on the frozen lake along the shoreline. Local hotel /B,L,D/
Day-9 MURUN TOWN
We stay all day at the frozen lake. Taking a walk on the ice is fantastic and we will be doing Horse Sledding on the ice for 1 hour.
In the late afternoon, after a scenic lunch at the lakeshore, we head back to Murun town. After our arrival, we transfer to a local hotel for an overnight stay with a hot shower available. Local hotel /B,L,D/
Day-10 MURUN/ ULAANBAATAR
Early start with breakfast and drive to Murun town to take an internal flight to Ulaanbaatar. We transfer to the hotel and free afternoon with some souvenir shopping in the National Department store and more. Farewell dinner. Hotel /B,L,D/
Day-11 DEPARTURE
We will transfer you to your international departure.
What's Included
What's Not Included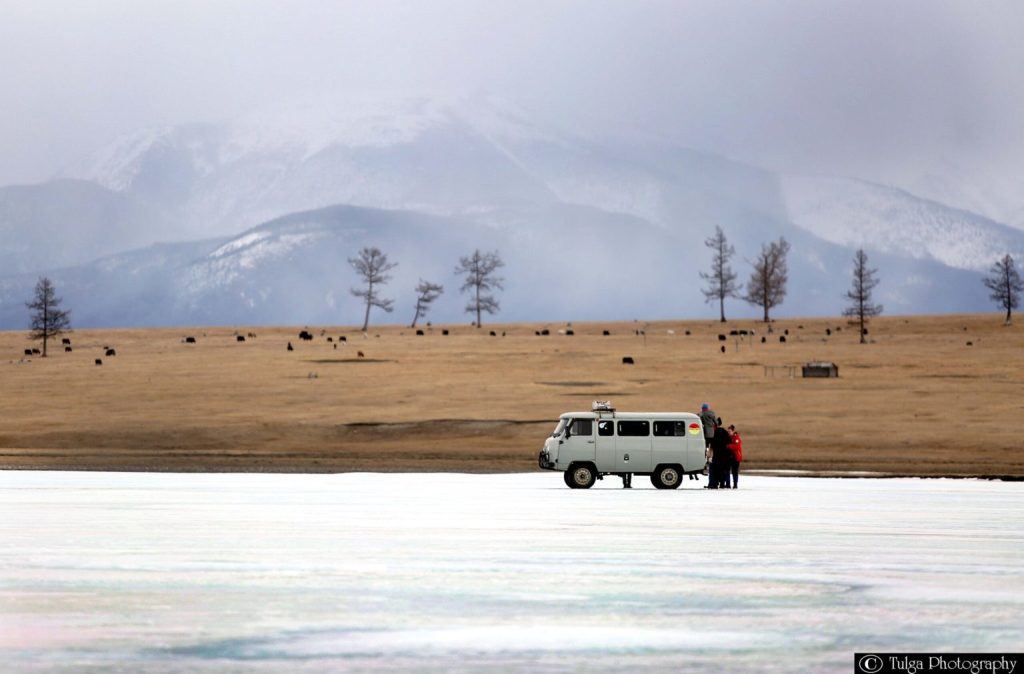 Reindeer related information:
Reindeer produce very little milk, so you cannot purchase it. But not to worry, you can still drink reindeer milk tea made by a local reindeer family. Some families with many reindeer sell cheese, so when you meet such families you can ask them to buy some.
After we ask the owner first, we can also ride a reindeer for a short amount of time.
Domestic local flight:
The baggage allowance for a domestic flight in Mongolia is 15kgs in total: 10kg for check-in luggage and 5kg for hand luggage. For extra luggage, you pay 3000-5000 Tugriks (local currency) per extra kilogram.
Accommodation:
We will be staying two nights in the Taiga where we will be sleeping in a tee-pee but stove-heated Huts are available, for local hotels, in Murun town for 2 nights, and in Ulaan Uul town for 1 night in a log cabin.
Food and drinks:
Our professional expedition chef will be preparing both Mongolian and European cuisine for you. Depending on the itinerary of the day for example with lengthy driving, we will also be eating a packed lunch. Please don't forget to write in our passenger list about your dietary requirements and allergies.
We will be providing you with mineral water, tea, and brewed coffee, but soda and juice will not be provided.
Tour guide and Leader:
Certified English-speaking experienced Tour Leaders and Tour guides will be your friend and close partner for the duration of the trip and even after your departure. All Nomadic Trails team members have been trained personally by Nomadic Trails experts and the Mongolian Professional Tour Guide Association.
Extra tips for this Nomadic Reindeer Herders Tour:
In the mornings, if you get up early, you can go on a walk, meditate or even read books.
During our drives, you will see stunning landscapes. You will witness the stunning view of mountains of unique formation, serene lakes, and frozen rivers. Sipping wine near a bonfire in the evenings, sharing memorable moments from our trip, and observing the starry sky is indeed a moment one can simply enjoy.