Genghis Khan Statue Tour
This 1-day Genghis Khan statue tour is filled with wonderful destinations of Mongolia you can visit in only one day.
Our trip starts with a 1-1.5hour drive east of Ulaanbaatar city to Tsonjin Boldog. This wonderful location is known for its crown destination the stainless steel dramatic statue of Genghis Khan riding his faithful steed. The Genghis Khan Statue is 45-meter/147.6-foot tall and is the tallest and largest equestrian statue in the World. The view of the statue from below is stunning, but with a short elevator ride through the horse's head and some stairs, you can get on a viewing platform. The view from the horse's mane is truly picturesque.
Afterward, we will have a picnic lunch and head to our next destination. The Aryapal Meditation Monastery is located at the Terelj National Park, a beautiful park with unique rocky formations. Furthermore, this monastery was built in the 19th century and renovated after the purge in the late 90s. It has a calming atmosphere with a stunning high view of the area. After dinner at the park, we will return to Ulaanbaatar city.
After meeting you at your hotel, we will drive to our first destination of the day – the Chinggis Khan statue complex. We will explore the individual locations of the complex.
Genghis Khan Statue complex build:
The base floor has a small museum of the Mongol Empire period and a Tv room showing a short movie about the making of this statue. There are also portraits of kings of Mongols hanging on the walls.
The first floor inside the complex offers you souvenir shops, a ticketing office, photo section with authentic Mongolian Traditional Costumes- Deels. There is a giant Mongolian boot for display on the same floor. Toilets are available at the end of the round corridor.
The second floor offers you a restaurant that serves hot and cold drinks.
The elevator leads to a panoramic viewing area on the horse's mane through its chest and neck.
After lunch, we will drive to Terelj National Park and visit the Aryapal Monastery. After a good walk and exploring around the area we have early dinner and return to the capital. /L,D/
What's Included
What's Not Included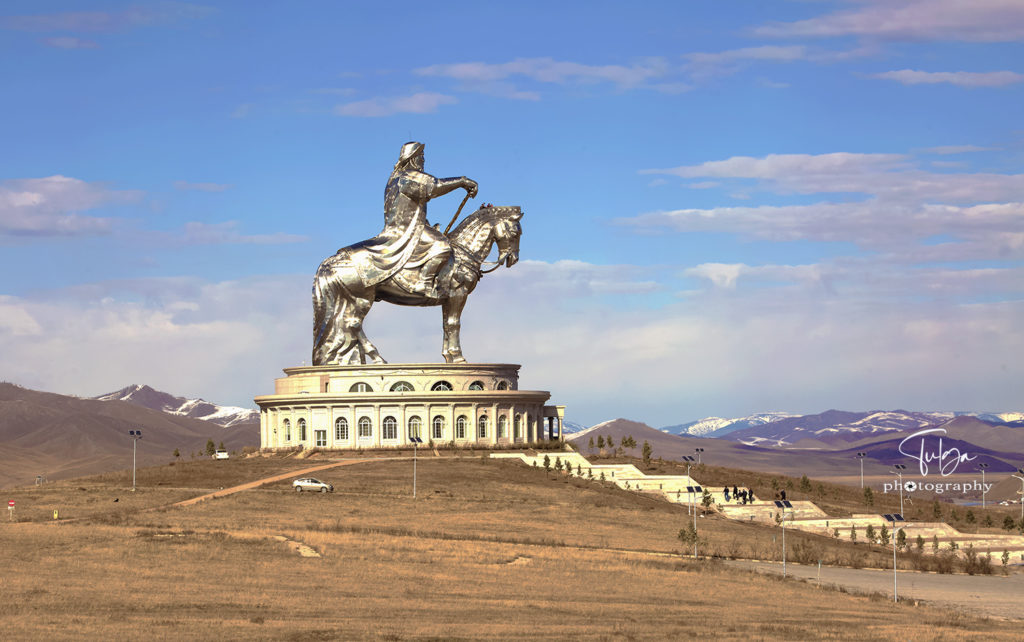 Packing tips for Chinggis Khaan Statue Tour:
Make sure to pack lightly. Nomadic Trails staff will provide you with mineral water, lunch, and dinner. There is no need to pack any utensils, however, a water bottle won't go amiss as staying hydrated is essential for your health.
A nice pair of walking shoes would be perfect for the walk to the Aryapal Meditation Monastery.
If you have a fear of heights, make sure to notify your guide beforehand. This way you can explore the museum, souvenir shops, etc without having to go on the horse's head.