Gobi & Khuvsgul Lake Tour in Mongolia
Take a 15-day journey across Mongolia to see all the best destinations that Southern, Northern, and Central Mongolia have to offer. With a wide selection of contrasting and most sought-after locations of both the Mongolian Desert and Mongolian Taiga. Khongor sand dunes and Khuvsgul lake, and Flaming Cliffs to mention a few. Also, you will visit the ancient capital of Mongols- Kharkhorin and Orkhon River Valley -one of the UNESCO heritage-protected places of Mongolia. It is no wonder that this tour is one of our most sought tours of 2019 and one of the best-selling tours of our operation.
While traveling across Mongolia from the South to the North for the duration of the whole Khuvsgul lake & Mongolian Gobi tour, you will be staying in comfortable ger camps. These yurt camps consist of traditional Mongolian dwellings and local hotels. Adding to this, you will have an excellent service of 4×4 comfortable jeeps or minivans for your choosing and trained and experienced drivers of Nomadic Trails.
Enjoy the hospitality of local nomad families with camels, horses, and yaks in different parts of Mongolia
The unique scenery of the Gobi
Be a part of "Everyday life activities of Nomads", such as making dairy products
Camel riding with the stunning view of Khongor Sand dunes
Explore the ancient Gobi rock carving site
Ancient Fossils of dinosaurs dating back to 90 million years
Gain an understanding of nomadic types of architecture in Mongolia while visiting local old temples
Witness the stunning view of Khorgo Volcano which erupted 5000 years ago
Visit places protected by UNESCO such as Orkhon Valley
See the ancient capital of the 13th century Mongols, Kharkhorin
Short boat trip to small Reindeer Herder family on the other side of the lake
Wildlife spotting at the Gobi as well as Khuvsgul regions
Horse riding along the pristine lake, Khuvsgul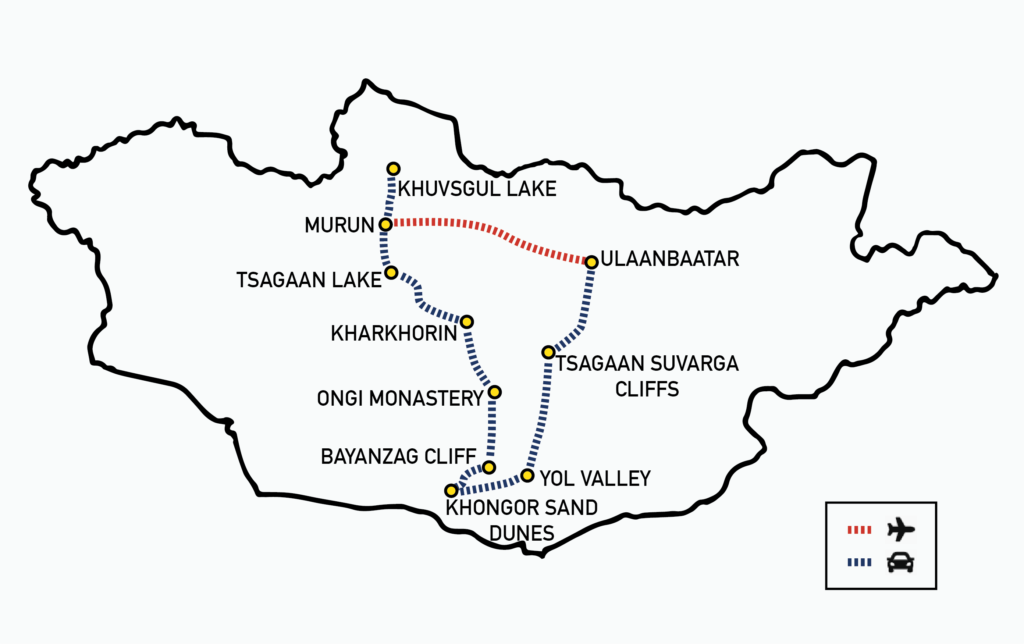 Day-1 ULAANBAATAR CITY
Today, we meet you upon arrival and transfer you to the hotel. The city tour includes the museum of National History. We will enjoy our evening with a Mongolian traditional folk concert with talented throat singers enchanting dancers and a beautiful contortionist.
Welcome dinner. Hotel /L,D/
Day-2 WHITE STUPA, TSAGAAN SUVARGA CLIFFS
After breakfast, we drive down to Tsagaan Suvarga cliffs, the ancient bottom of the Asiatic sea created this picturesque cliff more than 90 million years ago. The area is perfect for you to do some walking around, taking some photographs once you are down at the bottom of the cliffs. Ger camp/B,L,D/
Day-3 YOLIIN AM GORGE
On this beautiful day, we continue our drive to the Gobi. We transfer to a local ger camp. After lunch, we drive to the mountain and visit Yolyn Am Gorge. This beautiful valley is named after the Lammergeyer vulture. We take a good walk inside the canyon for an hour and return to our vehicle. Then we head back to our ger camp. Overnight ger camp. Ger camp/B,L,D/
Day-4 KHONGOR SAND DUNES
Our journey starts with a drive through the mountains. We arrive at 200 m tall Khongor Sand Dunes, the most important sand mass of Gobi Gurvan Saïkhan National Park. Ger camp/B,L,D/
Day-5 KHONGOR SAND DUNES
Full relaxed day at sand dunes. We visit the Sand Dunes and ride a camel, walk and explore around the area. Ger camp /B,L,D/
Day-6 BAYANZAG FLAMING CLIFFS
This morning, we leave sand dunes behind and drive to the Flaming cliffs, where dinosaur skeletons and eggs are found. During the sunset, the cliffs change color between vibrant shades of orange and red that seems to be on fire. Enjoy this stunning view while relaxing on the cliffside. Ger camp/B,L,D/
Day-7 ONGI RUINED MONASTERY
Ongi Ruined monastery was home to more than 5 000 people once. While driving towards this monastery, we pass through big open spaces with no obstacles and a marvelous view. We transfer to the ger camp. Ger camp/B,L,D/
Day-8 KHARKHORIN
Starting our day early, we drive to the ancient capital of Mongols in the 13th century, Kharkhorin. In modern times, instead of the capital, there is a simple small town in its place. We will visit a good museum with remains found from the old capital and also visit the Erdene Zuu monastery, built with remains of the ancient capital. Ger camp/B,L,D/
Day-9 TERKHIIN TSAGAAN LAKE
This morning, drive deeper into Central Mongolia. We visit a sleeping volcano that erupted 5000 years ago and created a lake called Terkhiin Tsagaan. There are easy paths to follow to the top of the volcano. Then we contiDay-10 JARGALANT HOT SPRINGnue to drive to the beautiful lake- Terkhiin Tsagaan. Ger camp/B,L,D/
We drive to Jargalant hot spring place. We are still in the ancient volcanic area. After a good rest, we will be visiting a local family. Ger camp/B,L,D/
Day-11 MURUN TOWN
Continuing our drive towards the North, we visit the most north getaway town – Murun. We visit an ancient site of a burial ground and Deer stones with deer scripts. There is one interesting deer stone with a human face out of the 22 that are here. Ger camp/B,L,D/
Day-12 KHUVSGUL LAKE
Starting our morning with a hearty breakfast, we drive to one of the most sought destinations, Khuvsgul lake. Also known as the Blue Pearl of Mongolia, this lake is a 130km long 30 km wide 260m deep freshwater lake. First, we transfer to our Ger camp. After, we take a good walk to a Shamanic ritual place. We also get to relax near the lakeshore and enjoy the view. Ger camp /B,L,D/
Day-13 KHUVSGUL LAKE
The second day at Khuvsgul lake has adventurous activities you can participate in. We will go horse riding to Khyasaa Mountain. The view of the lake from this mountain is simply stunning. Hiking is also an option for us on this day. Full day at the mountain and we return to our ger camp. Ger camp/B,L,D/
Day-14 MURUN TOWN – ULAANBAATAR
Early start with breakfast and drive to Murun town to take an internal flight to Ulaanbaatar. We transfer to the hotel and free afternoon with some souvenir shopping. Farewell dinner. Hotel /B,L,D/
Day-15 INTERNATIONAL DEPARTURE
We will transfer you to your international departure.
What's Included
What's Not Included
What is the electrical plug type in Mongolia?
At the ger camps with generators, electricity will be available for a certain amount of time and turn them off during the night. Some ger camps can be connected to the local town's electricity, so they can also have electricity all night. In Mongolia, electrical plug types vary. Most are Type C and Type E with 2 round holes.
Do ger camps provide toiletries?
Ger camps do not provide toiletries. Please make sure to bring your travel toiletries. For your own comfort and usage, it is good to also bring towels. A travel towel that is compact, very absorbent, and fast-drying is the best.
Do I need to bring a sleeping bag to this tour?
For your own comfort and usage, you can bring sleeping bags, but every accommodation of our trip offers fresh sterilized linen and cover.
What is the domestic flight baggage allowance?
The baggage allowance for a domestic flight in Mongolia is 15kgs in total: 10kg for check-in luggage and 5kg for hand luggage. For extra luggage, you pay 3000-5000 Tugriks (local currency) per extra kilogram.
Will the be internet during my visit to Mongolia?
Internet routers can be quite slow, so you can buy a data sim card. It is the best option to have internet during the trip. It can be purchased after your arrival at the Mongolian International Airport.
What food be provided during this tour?
Water will always be provided, but personal water bottles that keep their temperature are highly recommended and requested. Hot water can be requested from the Ger camps. Your tour guide can request them for you should you require hot water. For the duration of the trip outside Ulaanbaatar city, you will be dining at the ger camp and on a few occasions picnic lunch during stops from driving between destinations.
Tour guide and Leader:
Certified English-speaking experienced Tour Leaders and Tour guides will be your friend and close partner for the duration of the trip and even after your departure. All Nomadic Trails team members have been trained personally by Nomadic Trails experts and the Mongolian Professional Tour Guide Association.