Horseback Riding Tour in Mongolia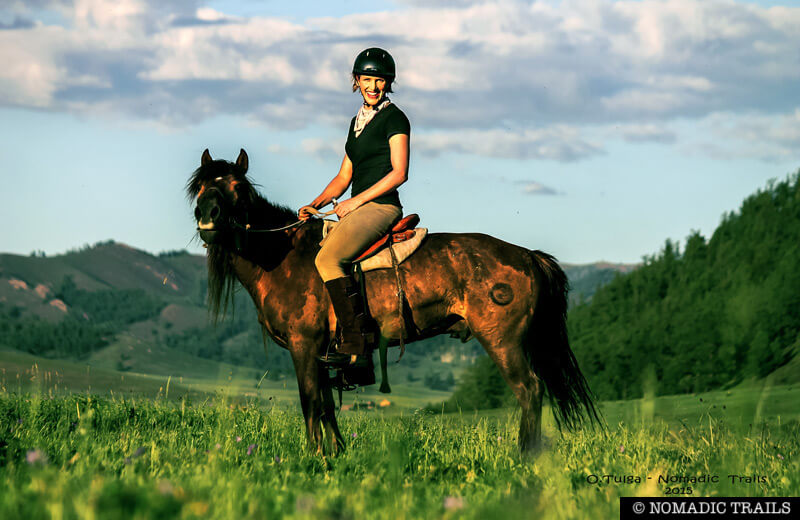 This Horse riding Mongolia journey offers stunning picturesque destinations you can enjoy while riding your trusted steeds through beautiful Northern Mongolia. We will ride through the colorful valleys and hills of the Darkhad Depression, rich with hundreds of freshwater lakes and rivers. Spend your nights under the starry open night sky of Mongolia with your tented camp surrounded by the wilderness.
Immerse yourself in Mongolian culture while staying with the Dukha Tsaatan reindeer herders tribe at their autumn camp in the Taiga and enjoy the hospitality of a local nomad herder family.
Charming Mongolian horses are capable of great speed and endurance on different terrains, both mountain and steppe roads. And these horses will be your trusted companions for the duration of your journey around the wilderness of Mongolia.
Epic scenery of the southern edge of Siberia
Mongolian Horseback riding along beautiful lakes, stunning pine tree mountains, and open big meadows.
Visit a local nomadic family with horses and other livestock.
Enjoy the warm hospitality of the Reindeer tribe of the Taiga
Being part of "Everyday life activities of Nomads " such as making diary products.
Explore ancient rock carvings sites and historical sites!
Wildlife spotting at all our destinations rich with fauna.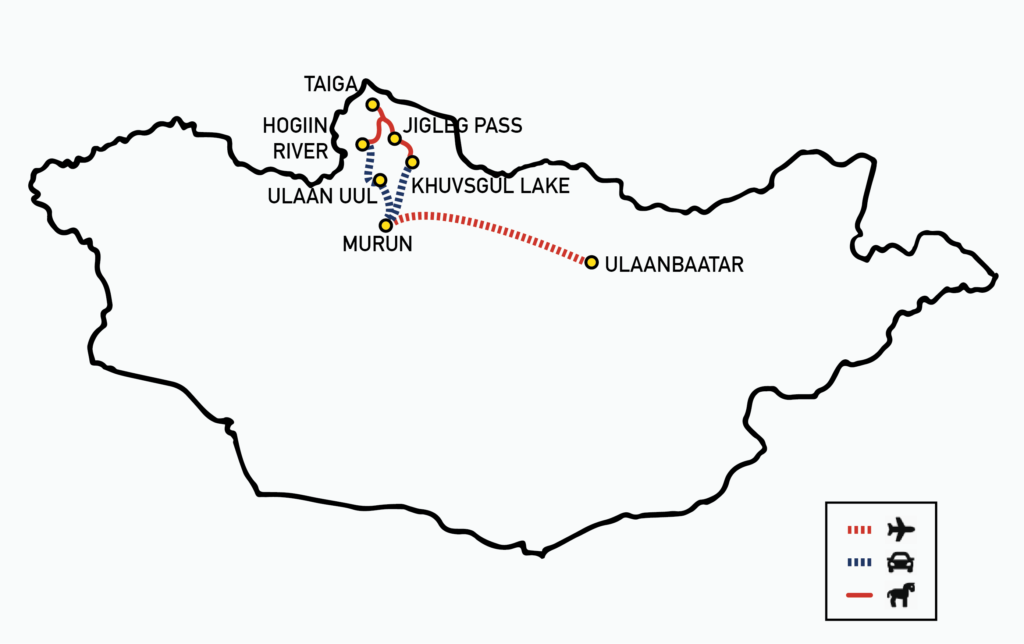 Day-1 ULAANBAATAR CITY
This day is our international arrival day.
Depending on your arrival time we can visit the National history museum with priceless treasures of Mongolian history.
We will also visit and explore the main square of Ulaanbaatar city called Sukhbaatar square located a short walking distance away from our hotel.
An authentic folk concert is available in the evening.
Welcome dinner. Hotel /L,D/
Day-2 ULAANBAATAR / MURUN TOWN / KHUVSGUL LAKE
This morning we transfer to the airport and take a flight to Murun town, the center of Khuvsgul province in the northern parts of Mongolia.
It takes 1 hour.
Here, we visit the town and supermarket for some snacks and refreshments and drive to Khuvsgul Lake.
Tented camping /B,L,D/
Day-3 HAR US SPRING
Today we meet our horses and ride along the shores of Khuvsgul Lake.
This amazing lake is the deepest lake in Mongolia.
We begin our journey by adjusting to the horse riding tempo as well as getting used to our short-stature Mongolian horses.
Tented camping /B,L,D/
Day-4 HAR US SPRING – MOGOIT RIVER
After breakfast we start riding deep into the mountain valleys, crossing rivers as we make our way slowly towards the Jigleg Pass.
With our vehicles departing before us we will travel with our horses and our one-day worth of supplies.
Tonight we'll set up camp next to a small river just before the pass. Tented camping /B,L,D/
Day-5 MOGOIT RIVER – JARAAHAI RIVER
This morning after a hearty breakfast, we will start our way towards and through the Darkhad Depression.
This amazing ecologically unique location is rich with hundreds of freshwater lakes and rivers. We ride through the Siberian Taiga, the forested area of Mongolia. Tented camping /B,L,D/
Day-6 JARAAHAI RIVER – SHARGA RIVER VALLEY
On this day we will continue our journey riding through the Darkhad depression with countless mountains and flower valleys as our horse riding scenery. We will set our camp near the Sharga river valley for the night.
Night horse riding can only be done if conditions are met and interest warrants. Night riding is an interesting aspect of horse riding as we can ride horses under the billions of stars of the sky! Tented camping /B,L,D/
Day-7 SHARGA RIVER VALLEY – HOGOROG RIVER VALLEY
Continuing through the beautiful Darkhad depression this day we will visit a nomadic family with livestock in Hogorog River Valley. Be a part of the locals' culture. For the night, we will be staying in Ger – a Mongolian traditional dwelling, built by the local family. Ger stay /B,L,D/
Day-8 KHOGOROG RIVER VALLEY – EAST TAIGA / REINDEER TRIBE CAMP
Our day starts early, riding towards Taiga, the region where part of the Tsaachin or Reindeer communities lives. You will be introduced to the amazing world of the reindeer-herding people, talking with the local people and understanding their local culture and how they have managed to maintain such a traditional way of life for so long.
Spend this day staying amongst the Tsaachin people and experience their everyday life. Learn of their unique traditions such as milking reindeer and processing milk products like cheese. Tee-pee /B,L,D/
Day-9 EAST TAIGA / REINDEER TRIBE CAMP – HOGOROG RIVER VALLEY
After saying our farewell to the tribe people, we start our journey back to the Hogorog river valley while taking in the beauty of the larch forest and wildflower patches. We continue our riding journey farther to Dood Tsenher Lake and set out our camp for the night. Tented camping /B,L,D/
Day-10 DOOD TSENHER LAKE – TSAGAAN NUUR TOWN
This morning we'll ride to see the ancient petroglyphs found in this region. Picnic lunch near a channel connecting two big lakes, one of which is Dood Lake, the other Deed Lake. We then continue our ride to Tsagaan Nuur town, the northern-most town of Mongolia. Tented camping /B,L,D/
Day-11 TSAGAAN NUUR TOWN – HOGIIN RIVER
After breakfast we ride along the mountains, passing through a rich valley of animals including sheep and goats, yaks, cows, and horses.
After a picnic lunch, we continue riding to Hogiin River valley near which we set out our camping for the night. Tented camping /B,L,D/
Day-12 HOGIIN RIVER – BAYAN MOUNTAIN
Today we'll ride out and head into the mountains that overlook the lake. We make our way slowly to the top of the pass while enjoying the incredible views. We then ride to the canyon of Ar Bosgot or heaven door as locals call it. Arriving at our camp, we'll say goodbye to our trusted horses. Tented camping /B,L,D/
Day-13 BAYAN MOUNTAIN – MURUN TOWN
Today, we start our drive via two passes to Murun town after breakfast. From the two passes, we will stop at one, where at the 13 Ovoo or the shamanic offering place we can offer some rice or milk for a good journey back. Driving further we return to Murun town and stay at a local hotel overnight. Local hotel /B,L,D/
Day-14 MURUN TOWN – ULAANBAATAR
Early start with breakfast and drive to Murun town to take an internal flight to Ulaanbaatar. We transfer to the hotel and free afternoon with some souvenir shopping and more. With a farewell dinner, we conclude our horse riding journey through Mongolia. Hotel /B,L,D/
Day-15 INTERNATIONAL DEPARTURE
We will transfer you to your international departure.
What's Included
What's Not Included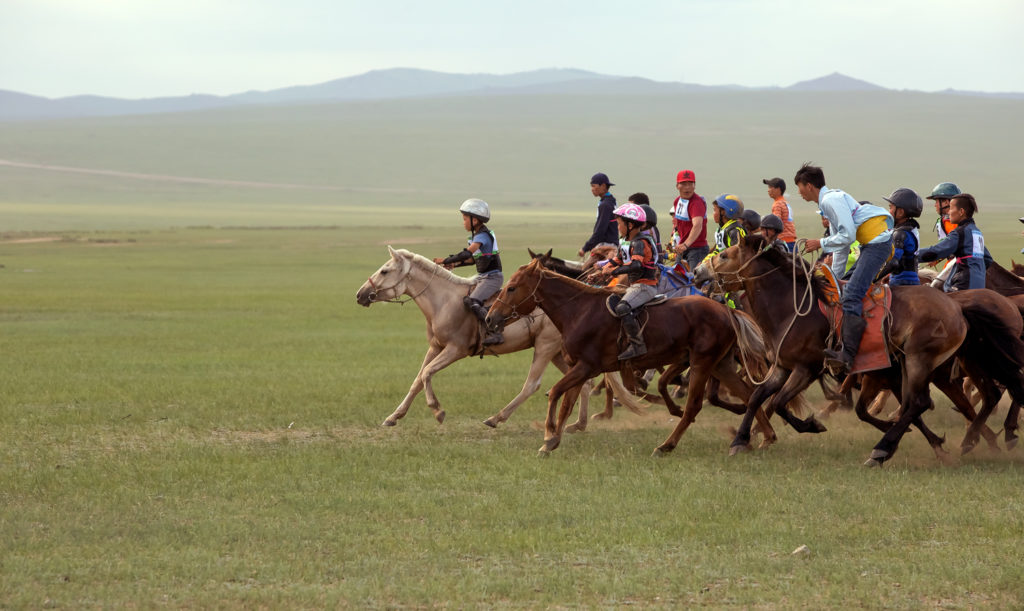 Packing tips, horse riding equipment:
Bring good quality riding boots, rain jackets, riding gloves, and windproof jackets among others. No need to bring a saddle or bridles. Because we provide comfortable western-type saddles, and horses are taken good care of by our horse guide.
You can also bring the following for your own comfort and usage:
Your own helmet (we do offer them in case our travelers do not bring theirs).
Small-sized saddle bag for a water bottle and other accessories.
Saddle pads
There are mosquitoes near rivers or lakes in the evenings in the Northern parts of Mongolia. Therefore, a mosquito spray, which is very effective, is highly advised.
Horse riding and riding time for Horseback Riding Tour Mongolia:
We have successfully organized our horse riding to the Taiga with travelers who have never ridden a horse before. Don't worry, you will have full detailed instructions from your Tour Leader on how to ride a horse, how to sit on the saddle, hold the reins, and more.
All of our team members are trained in First aid, so we are capable of giving you first aid and taking you to the nearest hospital as quickly as possible. But as the ground is mossy and soft and you follow the instructions from your horse guide, there is a very small chance of you getting injured.
There are of course horse-riding time limits per day. Each day will be a bit different from another, depending on the local weather. A broad estimate for your expectation would be anything from 2-8 hours including breaks and meal stops. There will be activities where we stop at local herdsmen or sightseeing that still counted in as riding hours.
Don't want to ride a horse but still wish to travel with your group?
A wide variety of choices will be open to you should you choose to pass on horse-riding while your friends or group-mates go horse riding. For example, our destinations allow activities such as fishing, photo shooting, and hiking through the mountains. You only need to contact us.
Tented trip food:
Our professional expedition chef will be preparing both Mongolian and European cuisine for you. Depending on the itinerary of the day for example with lengthy driving, we will also be eating a packed lunch. Please don't forget to write in our passenger list about your dietary requirements and allergies.
We will be providing you with mineral water, tea, and brewed coffee, but soda and juice will not be provided.
Reindeer related information:
Reindeer produce very little milk, so you cannot purchase it. But not to worry, you can still drink reindeer milk tea made by a local reindeer family. Some families with many reindeer sell cheese, so when you meet such families you can ask them to buy some.
After we ask the owner first, we can also ride a reindeer for a short amount of time.
Domestic local flight:
The baggage allowance for a domestic flight in Mongolia is 15kgs in total: 10kg for check-in luggage and 5kg for hand luggage. For extra luggage, you pay 3000-5000 Tugriks (local currency) per extra kilogram.
Tour guide and Leader:
Certified English-speaking experienced Tour Leaders and Tour guides will be your friend and close partner for the duration of the trip and even after your departure. All Nomadic Trails team members have been trained personally by Nomadic Trails experts and the Mongolian Professional Tour Guide Association.