Reindeer Festival Tour in Mongolia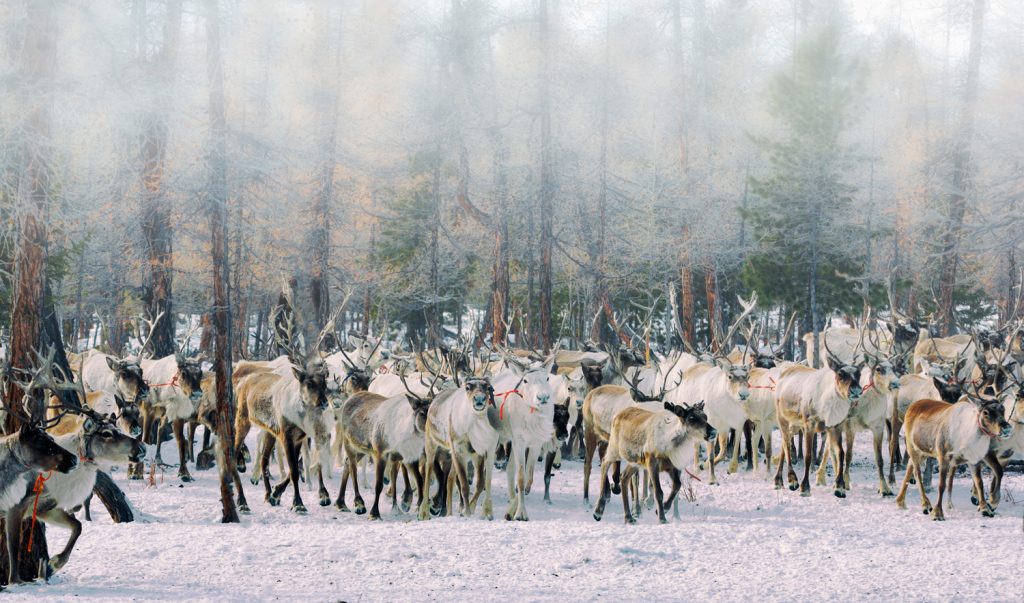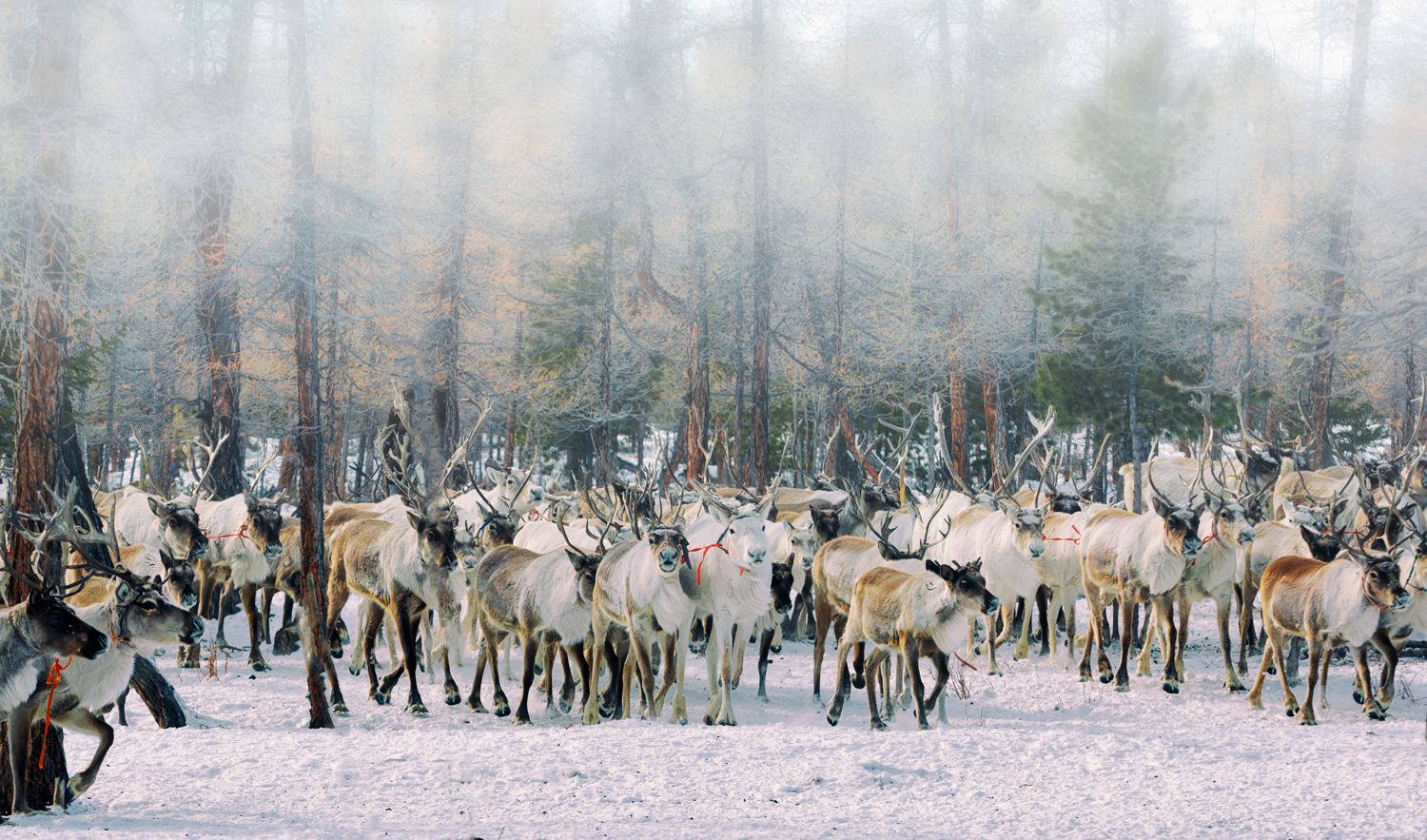 The Reindeer Festival in Taiga-Tsagaan Nuur town, located in the Khuvsgul province of Northern Mongolia, is a unique and meaningful event that takes place every winter. The festival celebrates an ancient tradition that is both mysterious and practical.
During the winter months in northern Mongolia, the oldest man of the reindeer tribe blows a long wooden horn that produces a low, melancholy sound. This tradition is said to have originated as a means of scaring away evil spirits during the dark winter days, but the horn was also used as a means of communication between the reindeer people.
The Reindeer Festival is a colourful and vibrant celebration of dance, music, and reindeer that abruptly awakens the sleepy alpine village of Tsagaannuur every winter. The festival typically takes place in March, which is often thought to mark the end of winter and the beginning of spring.
Mongolia hosts several winter festivals during this time, including the
"Silver Reed of Western Mongolia – The Khovd Ice Festival" as "Mungulug Shagshuurga 21-22 January,"
The "Ice Festival 1-4 March" in Khuvsgul province,
The "Camel Festival 4-5 March" in South Gobi,
The "Reindeer Festival 5-6 March" in Khuvsgul Province,
The small "Eagle Festival 4-5 March" near Ulaanbaatar city.
These festivals are a great way to experience the unique culture and traditions of Mongolia, as well as to celebrate the changing of the seasons.
Enjoy the Colorful Mongolian traditional costume-wearing locals
Reindeer-related traditional customs
Ice festival at the Khatgal town
Experience the Mongolian Winter
Epic scenery of the southern edge of Siberia
Witness the everyday life of a nomad tribe, Tsaachin Mongolia
Enjoy the hospitality of a local family
Meet face-to-face with the reindeer tribe shaman
Relax with the stunning view of Khuvsgul Lake, the Blue Pearl of Mongolia and many more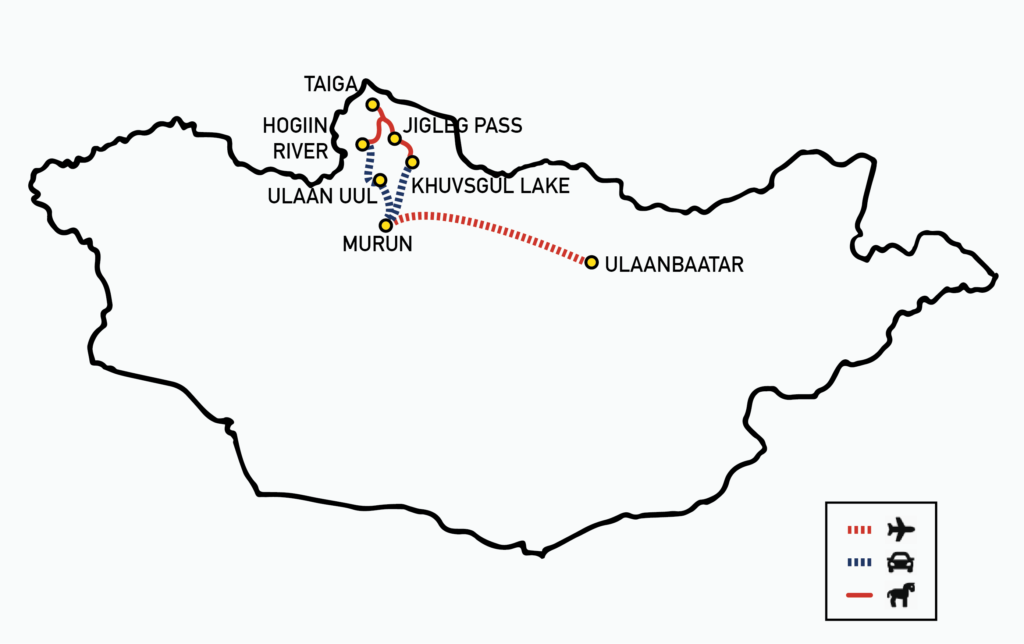 Day-1. Ulaanbaatar/ Murun- Toilogt
We meet you at the airport and take a 1.5-hour flight to Murun, the provincial capital town of Khuvsgul province. We drive out of Murun town to Khatgal town, located on the shore of the frozen lake, getting ready for tomorrow's big event "Ice Festival". Overnight comfortable Ger camp.
Day-2. Ice Festival
Full day to enjoy the Ice Festival near Khatgal town. There are many exciting opportunities to see and experience numerous activities including Ice archery, skiing competitions, ice colliding games, horse sledging and many more today. We have lunch at a local place and continue to enjoy the Ice festival. Overnight ger camp and warm gers.
Day-3. Renchinlhumbe town
After breakfast, we drive to Renchinlkhumbe town, located in the beautiful Darkhad Depression, surrounded by tall mountain ranges. This is really beautiful and scenic road through mountains with pine trees. We arrive at one of the Darkhad Tribe's towns and transfer to a local hotel with a wooden cabin with stove-heated rooms to stay warm. Dinner and overnight wooden cabin rooms.
Day-4. Reindeer Festival Mongolia -Taiga
After breakfast, we drive to Jarganat Gol River, where the river flows all year round. Underground thermos activity helps this river flows over the cold winter and it creates mysterious steam which covers all the pine trees nearby. As a result of such activities, we will see such a white tree in this spot.
Then we head to the Reindeer festival, which will start at 11:00 am with 1000 reindeer gathering in the same place. Enjoy the festival and transfer to the local Teepee and wooden cabins inside the Taiga with Reindeer herders.
Day-5. Snow Festival -Ulaan Uul Town
After breakfast, we enjoy the second day of the Reindeer festival with games and competitions of East and West Taiga reindeer herders. After lunch, we drive out of Taiga and head to Ulaan Uul town for a local hotel. Dinner and overnight at a local hotel.
Day-6 Murun
This beautiful morning, we drive out of Darkhad Depression heading south to Murun, the provincial capital town of Khuvsgul province. We transfer to a local hotel for a nice hot shower and have a farewell dinner.
Day-7 Ulaanbaatar
After breakfast, we transfer to the local airport and take a flight to Ulaanbaatar city.
What's Included
What's Not Included
Reindeer related information:
Reindeer produce very little milk, so you cannot purchase it. But not to worry, you can still drink reindeer milk tea made by a local reindeer family. Some families with many reindeer sell cheese, so when you meet such families you can ask them to buy some.
After we ask the owner first, we can also ride a reindeer for a short amount of time.
Domestic local flight:
The baggage allowance for a domestic flight in Mongolia is 15kgs in total: 10kg for check-in luggage and 5kg for hand luggage. For extra luggage, you pay 3000-5000 Tugriks (local currency) per extra kilogram.
Accommodation:
We will be staying two nights in the Taiga where we will be sleeping in a tee-pee but stove-heated Huts are available, for local hotels, in Murun town for 2 nights, and in Ulaan Uul town for 1 night in a log cabin.
Food and drinks:
Our professional expedition chef will be preparing both Mongolian and European cuisine for you. Depending on the itinerary of the day for example with lengthy driving, we will also be eating a packed lunch. Please don't forget to write in our passenger list about your dietary requirements and allergies.
We will be providing you with mineral water, tea, and brewed coffee, but soda and juice will not be provided.
Tour guide and Leader:
Certified English-speaking experienced Tour Leaders and Tour guides will be your friend and close partner for the duration of the trip and even after your departure. All Nomadic Trails team members have been trained personally by Nomadic Trails experts and the Mongolian Professional Tour Guide Association.
Extra tips for this Nomadic Reindeer Herders Tour:
In the mornings, if you get up early, you can go on a walk, meditate or even read books.
During our drives, you will see stunning landscapes. You will witness the stunning view of mountains of unique formation, serene lakes, and frozen rivers. Sipping wine near a bonfire in the evenings, sharing memorable moments from our trip, and observing the starry sky is indeed a moment one can simply enjoy.