Spiritual & Shaman Tour in Mongolia
Embark on a life-changing spiritual journey and traverse the vast Steppe, journeying through the untamed forests of Siberia and the Northern regions of Mongolia. Delve deep into the secluded wilderness, where special tribes still maintain a profound connection with nature. Our Spiritual Shaman Tour of Mongolia will take you on a remote trail to stay with the nomadic Dukha reindeer herders and learn from the fragile culture of Tsaatan or Dukha, while residing in their traditional teepee dwellings.
Experience the healing of your body and soul while enjoying the hospitality of a shaman's home deep in the Darkhad depression area. Witness a shamanic ritual that will aid you on your spiritual journey and receive a special blessing from a shaman in Taiga. Find clarity through meditation and body exercises in the breathtaking nature of Mongolia.
This unique and unforgettable experience will leave you with memories to last a lifetime. Join us on this Spiritual Shaman Tour Mongolia and be a part of a journey that will transform you.
If you're interested in learning more about our successful projects, check out "The Horse Boy" documentary released in 2009. It tells the story of the spiritual journey of an autistic boy and his family, who joined us at Nomadic Trails for a body and soul healing experience.
Meet face-to-face with a Mongolian shaman.
Heal your body and soul while enjoying the hospitality of a shaman.
Witness and be part of a traditional shamanic ritual.
Ride small Mongolian horses to the Taiga forest.
Witness the beautiful natural scenery of the southern edge of Siberia.
Be inspired and gain power while meditating in the untouched wilderness.
Visit the stunning Khuvsgul Lake, one of the most popular destinations in the Northern region of Mongolia.
Enjoy the hospitality of a local family.
Witness the everyday life of a nomad Reindeer herder Tribe.
Charge your "wind horse" that is equal to your soul!
Enjoy dishes prepared by a professional expedition cook.
Stay overnight in a tee-pee and ger, traditional dwellings.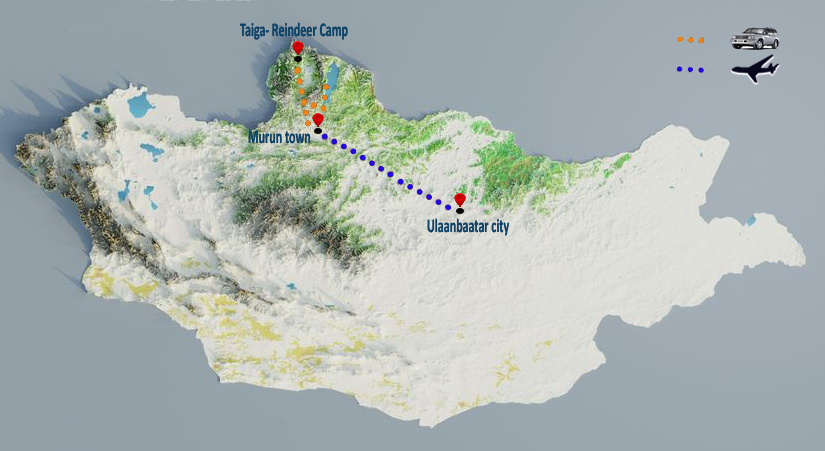 Day-1 ULAANBAATAR CITY
This day is the day you will arrive by your international transport to Mongolia. After lunch, we will explore the main square of Ulaanbaatar city
An authentic folk concert is available in the evening. So after a leisurely evening of traditional arts and performances, we will welcome you to Mongolia and have a Welcome dinner. Hotel /L,D/
Note: The schedule for this day is heavily dependent on your arrival time.
Day-2 ULAANBAATAR – MURUN TOWN – UJIG RIVER VALLEY
This morning we transfer you to the airport for your one-hour domestic flight from the capital to Murun town, located north of Ulaanbaatar city.
After landing, you will be welcomed by the Nomadic Trails team. After that, you will make a short visit to the town and its supermarket for some snacks and refreshments. It is also a good time to get offerings, such as rice or milk, for the "Ovoo" we will visit during our journey the next day. On this day we will also collect border permission, as we will be very close to the Mongolian and Russian borders.
Most importantly, this day will be your first day camping out in the wilderness. Our first camp will be in the area of the Ujig river valley, depending on insects closer or away from the river itself. Tented camping /B,L,D/
Day-3 UJIG RIVER VALLEY – ULAAN UUL TOWN
After an exciting first day in the wild, we continue driving off-road northward. These parts are endless mountainous areas and valleys, so you can drink in the stunning scenery while we pass by.
Our journey today leads you via two mountain passes and passed a local town called Ulaan Uul. At one of the passes, there are 13 "Ovoo". At this shamanic offering place, we offer the offerings we have gotten from the previous day at Murun town and wish for a good journey.
Driving further we will be in the Darkhad Depression, rich with 300 lakes and big rivers. We set our mountain camping site for the night. Tented camping /B,L,D/
Day-4 ULAAN UUL TOWN – KHOGOROG RIVER VALLEY
Continuing through the beautiful Darkhad depression this day we will visit our shaman's home in Hogorog River Valley a 4-5 hour drive away from our camping site. You get to meet face-to-face with the shaman and get to know him, enjoying his company and hospitality.
We will be staying overnight in a ger – traditional Mongolian dwelling, built by the shaman near his own home where he lives with his family and livestock. Guest ger. /B,L,D/
Day-5 KHOGOROG RIVER VALLEY – TAIGA / REINDEER TRIBE CAMP
After having a brief instruction on riding Mongolian horses, you will get acquainted with your own horse before it is time to set off. Start riding towards Taiga, the region where parts of the Tsaachin communities live. You will be introduced to the amazing world of the reindeer-herding people (Tsaachin).
Due to the road conditions, we cannot use vehicles to reach the area. We transport luggage and food supplies by separately prepared horses. Horse riding today is approx. 4-5 hours. Shamanic Ritual. Tee-pee /B,L,D/
Day-6 TAIGA / REINDEER TRIBE CAMP
Spend the next day staying amongst the Tsaachin people and experience their everyday life. Learn of their unique traditions such as milking reindeer and processing milk products like cheese.
Spend time talking with the local people and understanding their local culture and how they have managed to maintain such a traditional way of life for so long. Our shaman will take us to a special place to do a blessing for us. Take in the beauty of the larch forest and wildflower patches. Be inspired and gain power while meditating in the untouched wilderness. Tee-pee/B,L,D/
Day-7 TAIGA / REINDEER TRIBE CAMP – SHARGA RIVER VALLEY
After breakfast, we ride through the mountains and arrive back at the big river Khogorog. Your mind will be swirling with the incredibly rare experience you have just had over the past few days. We will drive out to a beautiful tented camping spot on the bank of the river. /B,L,D/
Day-8 SHARGA RIVER VALLEY – GUNIIN GOL RIVER VALLEY
After early morning breakfast, we part with the shaman and start our drive through the Darkhad Depression to Tsagaan Nuur town, the most northern town of Mongolia. Then we continue driving to the Guniin gol river valley. Basically, this day is concentrated on driving and enjoying the view. Tented camping /B,L,D/
Day-9 GUNIIN GOL RIVER VALLEY/UJIG RIVER VALLEY
Slow day to reach the Ujig River Valley for our offering ceremony, according to our shaman's advice. Tented camping.
Day10. UJIG RIVER VALLEY- KHUVSGUL LAKE
On this beautiful day, we say goodbye to our cook and crew. Then we head to Khuvsgul, blue pearl lake and transfer to ger camp. It is one of the most beautiful lakes in Mongolia called Blue Pearl by locals. Free time. Lunch and dinner at ger camp.
Ger camp/B,L,D/
Day-11 KHUVSGUL LAKE – ULAANBAATAR
Early start with breakfast and drive to Murun town to take an internal flight to Ulaanbaatar. We transfer to the hotel and free afternoon with some souvenir shopping and more. With a farewell dinner, we conclude our journey to Mongolia. Hotel/B,L,D/
Day-12 DEPARTURE
We will transfer you to your international departure.
Day-13 BAYAN MOUNTAIN – MURUN TOWN
Today, we start our drive via two passes to Murun town after breakfast. From the two passes, we will stop at one, where at the 13 Ovoo or the shamanic offering place we can offer some rice or milk for a good journey back. Driving further we return to Murun town and stay at a local hotel overnight. Local hotel /B,L,D/
Day-14 MURUN TOWN – ULAANBAATAR
Early start with breakfast and drive to Murun town to take an internal flight to Ulaanbaatar. We transfer to the hotel and free afternoon with some souvenir shopping and more. With a farewell dinner, we conclude our horse riding journey through Mongolia. Hotel /B,L,D/
Day-15 INTERNATIONAL DEPARTURE
We will transfer you to your international departure.
What's Included
What's Not Included
Packing tips, and horse riding equipment:
Bring good quality riding boots, rain jackets, riding gloves, and windproof jackets among others. No need to bring a saddle or bridles. Because we provide comfortable western-type saddles, horses are taken good care of by our horse guide.
You can also bring the following for your own comfort and usage:
Your own helmet (we do offer them in case our travellers do not bring theirs).
Small-sized saddle bag for a water bottle and other accessories.
Saddle pads
There are mosquitoes near rivers or lakes in the evenings in the Northern parts of Mongolia. Therefore, a mosquito spray, which is very effective, is highly advised.
Horse riding and riding time for this Spiritual Shaman tour in Mongolia:
We have successfully organized our horse riding to the Taiga with travellers who have never ridden a horse before. Don't worry, you will have full detailed instructions from your Tour Leader on how to ride a horse, how to sit on the saddle, hold the reins, and more.
All of our team members are trained in First aid, so we are capable of giving you first aid and taking you to the nearest hospital as quickly as possible. But as the ground is mossy and soft and you follow the instructions from your horse guide, there is a very small chance of you getting injured.
There are of course horse-riding time limits per day. Each day will be a bit different from another, depending on the local weather. A broad estimate for your expectation would be anything from 2-8 hours including breaks and meal stops. There will be activities where we stop at local herdsmen or sightseeing that still counted in as riding hours.
Don't want to ride a horse but still wish to travel with your group?
A wide variety of choices will be open to you should you choose to pass on horse riding while your friends or group mates go horse riding. For example, our destinations allow activities such as fishing, photo shooting, and hiking through the mountains. You only need to contact us.
Want to travel with your children?
If you are confident that you can ride a horse well, you can ride with your child. Even if you cannot, we can hire an extra local horse guide to lead your child safely to one of our destinations at the Taiga reindeer people.
Tented trip food:
Our professional expedition chef will be preparing both Mongolian and European cuisine for you. Depending on the itinerary of the day for example with lengthy driving, we will also be eating a packed lunch.
Please don't forget to write in our passenger list about your dietary requirements and allergies. We will be providing you with mineral water, tea, and brewed coffee, but soda and juice will not be provided.
Reindeer-related information:
Reindeer produce very little milk, so you cannot purchase it. But not to worry, you can still drink reindeer milk tea made by a local reindeer family. Some families with many reindeer sell cheese, so when you meet such families you can ask them to buy some.
After we ask the owner first, we can also ride a reindeer for a short amount of time.
Domestic local flight:
The baggage allowance for a domestic flight in Mongolia is 15 kg in total: 10kg for check-in luggage and 5kg for hand luggage. For extra luggage, you pay 3000-5000 Tugriks (local currency) per extra kilogram.
Tour Guide and Leader:
Certified English-speaking experienced Tour Leaders and Tour guides will be your friend and close partner for the duration of the trip and even after your departure. All Nomadic Trails team members have been trained personally by Nomadic Trails experts and the Mongolian Professional Tour Guide Association.
Extra tips:
In the mornings, if you get up early, you can go on a walk, meditate, do some yoga or even read books.
During our drives, you will see stunning landscapes and visit hospitable nomadic families who are happy to share their dairy products such as fermented milk with guests. You will get to taste extraordinary cheese made from reindeer milk at the Taiga as well as get to know reindeer families. You will witness the stunning view of mountains of unique formations, serene lakes, and lively rivers. Sipping wine near a bonfire in the evenings, sharing memorable moments from our trip, and observing the starry sky is indeed a moment one can simply enjoy.