Tsaatan Reindeer Herders Tour in Mongolia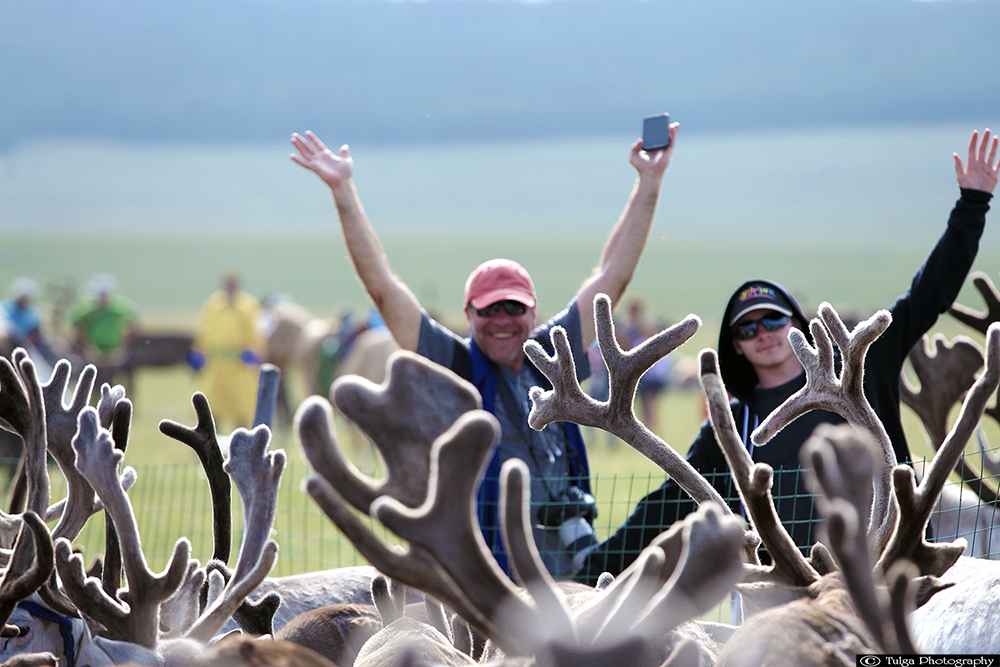 Experience the Enchanting Nomadic Culture of the Dukha Mongolian Reindeer Herders
Welcome to an extraordinary journey that will immerse you in the hospitality and nomadic culture of the Dukha Mongolian Reindeer Herders in Northern Mongolia. For over 15 years, this tour has been one of Nomadic Trails' best-selling adventures, offering a unique opportunity to connect with the remarkable Reindeer people and witness their traditional way of life.
Located in the secluded Taiga region of Khuvsgul province, you will have the privilege of exploring a pristine wilderness where the Dukha tribe thrives. Gain deep insights into their nomadic practices, which have been passed down through generations, providing a rich tapestry of cultural heritage.
Escape to this remote destination and let your memories be enriched with life-changing experiences. Spend enchanting nights under the starry sky, gazing through the teepee roof of the reindeer people. Immerse yourself in the Dukha tribe's traditions as you taste the extraordinary milk of reindeer and become a part of their vibrant summer and autumn settlements.
At Nomadic Trails, we encourage you to forge your own unique trails and create lasting memories. Join us on this unforgettable journey to the heart of the Dukha Mongolian Reindeer Herders' world.
Watch our captivating video of the Reindeer camp and let it ignite your sense of wanderlust.
Join us for this extraordinary adventure and let the stunning landscapes, unique cultural encounters, and warm hospitality of the Dukha Mongolian Reindeer Herders create memories that will last a lifetime. Start your adventure with Nomadic Trails today!
Embark on a journey through the Epic Scenery of the Southern Edge of Siberia
Saddle up and Ride Small Mongolian Horses through the Enchanting Taiga Forest
Immerse Yourself in the Everyday Life of the Nomad Tribe, Tsaatan Mongolia
Experience the Warm Hospitality of a Local Family, embracing their traditional way of life
Engage in "Everyday Life Activities of Nomads," including the art of making dairy products
Connect with the Reindeer Tribe Shaman in a Face-to-Face Encounter, unveiling their spiritual practices
Unwind and Rejuvenate with the Breathtaking View of Khuvsgul Lake, known as the Blue Pearl of Mongolia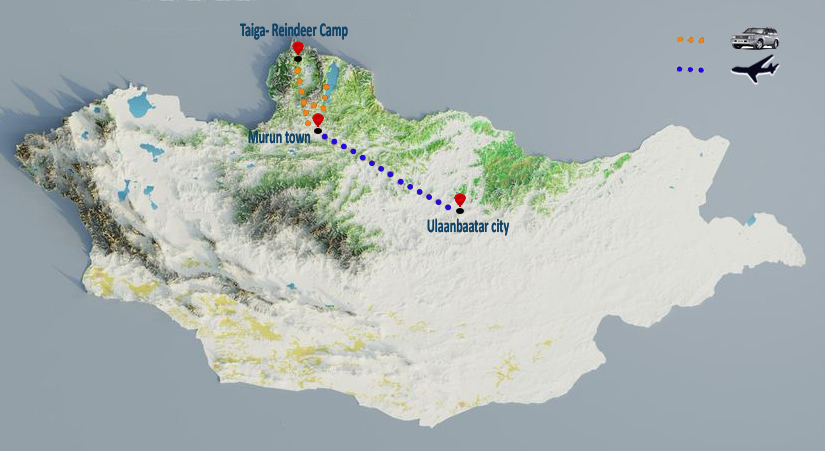 Day-1 ULAANBAATAR CITY
Upon your arrival at Chinggis Khan International Airport, our team will meet and transfer you to your hotel. Depending on your flight schedule, we will visit the National History Museum and walk around Sukhbaatar Square. Enjoy a traditional Mongolian folk concert in the evening followed by a welcome dinner. Rest and overnight at the hotel. (Hotel / L, D)
Day 2: UB – MURUN TOWN – UJIG RIVER VALLEY
After breakfast, we transfer to the airport for a domestic flight to Khuvsgul province. Upon landing, our team will greet you and we'll briefly visit Murun town for some supplies. We then start our drive towards Ujig River Valley for our first night of camping. (Tented camping / B, L, D)
Day 3: UJIG RIVER VALLEY – ULAAN UUL TOWN
Today, we drive through mountainous areas to Ulaan Uul town. We'll make a stop at the main Ovoo to make an offering for a safe journey. Afterward, we continue driving to our mountain camping site for the night. (Tented camping / B, L, D)
Day 4: ULAAN UUL TOWN – KHOGOROG RIVER VALLEY
Continuing through the beautiful Darkhad Depression, we visit a nomadic family in Khogorog River Valley. Experience the locals' culture and stay overnight in a traditional Mongolian ger provided by the family. (Ger stay / B, L, D)
Day 5: KHOGOROG RIVER VALLEY – TAIGA / REINDEER TRIBE CAMP
After receiving a brief instruction on horse riding, embark on a journey towards Taiga, the region where the Tsaachin reindeer herders reside. Due to road conditions, we transfer our luggage and supplies by horse. The ride can take approximately 2-9 hours, depending on the tribe camp. Spend the night in tee-pees. (Tee-pee / B, L, D)
Day 6: TAIGA – REINDEER TRIBE CAMP
Immerse yourself in the daily life of the Tsaachin people and participate in their unique traditions, such as milking reindeer and processing milk products. Interact with the locals, learn about their culture, and appreciate the untouched wilderness of the larch forest. Overnight in tee-pees. (Tee-pee / B, L, D)
Day 7: TAIGA – REINDEER TRIBE CAMP / KHOOLOI LAKESIDE
After breakfast, ride back to the Khogorog River and stay in a ger near a local family and their farm animals. Take in the stunning lakeside scenery and reflect on your extraordinary experiences. (Guest ger / B, L, D)
Day 8: KHOOLOI LAKESIDE / GUNIIN GOL RIVER VALLEY
Pack up and take the old ferry to cross the Shihged River. Drive to Guniin Gol River Valley and set up tented camping for the night. Enjoy the surrounding natural beauty. (Tented camping / B, L, D)
Day 9: GUNIIN GOL RIVER VALLEY – UJIG RIVER VALLEY
Drive through picturesque mountains and arrive at our tented camping spot. Perform offerings and meditation work as we spend our last night in the wilderness. (Tented camping / B, L, D)
Day 10: UJIG RIVER VALLEY – KHUVSGUL LAKE
After bidding farewell to our cook and crew, we continue our journey to Khuvsgul Lake, often referred to as the "Blue Pearl of Mongolia." Upon arrival, we transfer to a ger camp where you can enjoy some free time to relax and take in the breathtaking beauty of the lake. Lunch and dinner will be served at the ger camp. (Ger camp / L, D)
Day 11: MURUN/ULAANBAATAR
Start the day with an early breakfast and embark on a short drive to Murun town. From there, we take an internal flight back to Ulaanbaatar. Once we arrive, we transfer you to the hotel where you have the afternoon free to rest, explore the city at your own pace, or join us for a visit to the National Department Store for souvenir shopping. In the evening, we gather for a farewell dinner to conclude your Tsaatan Mongolia tour. Overnight at the hotel. (Hotel / B, L, D)
Day 12: DEPARTURE
We will arrange for your transfer to the international airport for your departure. Bid farewell to Mongolia as you embark on your onward journey.
What's Included
What's Not Included
Packing tips, horse riding equipment:
Bring good quality riding boots, rain jackets, riding gloves, and windproof jackets among others. No need to bring a saddle or bridles. Because we provide comfortable western-type saddles, and horses are taken good care of by our horse guide.
You can also bring the following for your own comfort and usage:
Your own helmet (we do offer them in case our travelers do not bring theirs).
Small-sized saddle bag for a water bottle and other accessories.
Saddle pads
There are mosquitoes near rivers or lakes in the evenings in the Northern parts of Mongolia. Therefore, a mosquito spray, which is very effective, is highly advised.
Horse riding and riding time for this Reindeer Tour Mongolia:
We have successfully organized our horse riding to the Taiga with travelers who have never ridden a horse before. Don't worry, you will have full detailed instructions from your Tour Leader on how to ride a horse, how to sit on the saddle, hold the reins, and more.
All of our team members are trained in First aid, so we are capable of giving you first aid and taking you to the nearest hospital as quickly as possible. But as the ground is mossy and soft and you follow the instructions from your horse guide, there is a very small chance of you getting injured.
There are of course horse-riding time limits per day. Each day will be a bit different from another, depending on the local weather. A broad estimate for your expectation would be anything from 2-8 hours including breaks and meal stops. There will be activities where we stop at local herdsmen or sightseeing that still counted in as riding hours.
Don't want to ride a horse but still wish to travel with your group?
A wide variety of choices will be open to you should you choose to pass on horse-riding while your friends or group-mates go horse riding. For example, our destinations allow activities such as fishing, photo shooting, and hiking through the mountains. You only need to contact us. We will tailor the Tsaatan Reindeer Herders Tour Mongolia specifically to you and your group.
Want to travel with your children?
If you are confident that you can ride a horse well, you can ride with your child. Even if you are cannot, we can hire an extra local horse guide to lead your child safely to our destination at the Taiga reindeer people.
Trip accommodation:
We will be staying two nights in the Taiga where we will be sleeping in tee-pees. For days before departing to the Reindeer people, we will stay near the local family in gers, which is a traditional Mongolian dwelling. For the rest of our trip, we will be camping in 2-person tents which are designed for 3 seasons. We will sort out the rooming to men/women, we will not mix two genders unless the tent mates are partners. If you would like to room alone in a tent, please note that you will be charged a tent-single supplement.
Even during summer, mornings and evenings are quite chilly in the Taiga and mountainous regions, therefore, we will be providing you with warm blankets made of camel wool and waterproof mattress. We highly recommend you bring a warm sleeping bag with you.
For all our days except at the Taiga where we will share the Reindeer Herder's toilets, we will be setting up our shower tent and toilet tents. In Kharganat, you will be staying in a ger camp.
Tented trip food:
Our professional expedition chef will be preparing both Mongolian and European cuisine for you. Depending on the itinerary of the day for example with lengthy driving, we will also be eating a packed lunch. Please don't forget to write in our passenger list about your dietary requirements and allergies.
We will be providing you with mineral water, tea, and brewed coffee, but soda and juice will not be provided.
Reindeer related information:
Reindeer produce very little milk, so you cannot purchase it. But not to worry, you can still drink reindeer milk tea made by a local reindeer family. Some families with many reindeer sell cheese, so when you meet such families you can ask them to buy some.
After we ask the owner first, we can also ride a reindeer for a short amount of time.
Domestic local flight:
The baggage allowance for a domestic flight in Mongolia is 15kgs in total: 10kg for check-in luggage and 5kg for hand luggage. For extra luggage, you pay 3000-5000 Tugriks (local currency) per extra kilogram.
Tour guide and Leader:
Certified English-speaking experienced Tour Leaders and Tour guides will be your friend and close partner for the duration of the trip and even after your departure. All Nomadic Trails team members have been trained personally by Nomadic Trails experts and the Mongolian Professional Tour Guide Association.
Extra tips:
In the mornings, if you get up early, you can go on a walk, meditate, do some yoga or even read books.
During our drives, you will see stunning landscapes and visit hospitable nomadic families who are happy to share their dairy products such as fermented milk with guests. You will get to taste extraordinary cheese made from reindeer milk at the Taiga as well as meeting the reindeer families. You will witness the stunning view of mountains of unique formation, serene lakes, and lively rivers. Sipping wine near a bonfire in the evenings, sharing memorable moments from our trip, observing the starry sky is indeed a moment one can simply enjoy.