Golden Eagle Festival Tour in Olgii
The Golden Eagle Festival is an annual event that takes place in Bayan-Ulgii province, located in western Mongolia, just as the winter hunting season begins. The festival celebrates the fascinating tradition of golden eagle hunting, where hunters from different regions of the province gather to showcase their skills and the bond between them and their birds.
The Golden Eagle Festival is held in three different locations, each at a different time.
The first festival will be the Local Golden Eagle Festival, which will take place in Altai town on September 9th and 10th, 2023 /9-10 September 2023/
The second festival will be the Golden Eagle Festival on the bank of Tolbo Lake, which will be held on September 16th and 17th, 2023. /16-17 September 2023/
Finally, the Ulgii town Golden Eagle Festival will take place in Ulgii town on October 1st, 2023 /1 October 2023/
Nomadic Trails, a travel agency, is offering a six-day, five-night Golden Eagle Festival tour in 2023. The tour will take place during the third festival, which is the Ulgii Golden Eagle Festival in October. The tour will have up to 100 Kazakh participants, and you will have the opportunity to be a part of this unique festival and create your own trails.
You will have the opportunity to enjoy an evening with a traditional folk concert that showcases the local culture of Mongolia.
Experience the hospitality of a local nomad family and learn about their daily lives and customs.
Explore the frosted mountainous scenery of Western Mongolia, which is home to the Golden Eagle Festival.
Be a part of the Golden Eagle Festival Mongolia, which is the highlight of the tour. Witness the majestic Kazakhs on horseback, dressed in their traditional dark coats and scarlet hats, with Golden Eagles hovering on their arms.
Get to enjoy the rare opportunity to view the Golden Eagles up close and personal. You can even have one perch upon your arm, which is an experience of a lifetime.
Taste the delicious and authentic Nomadic Mongolian cuisine of West Mongolia, which is a unique and unforgettable culinary experience.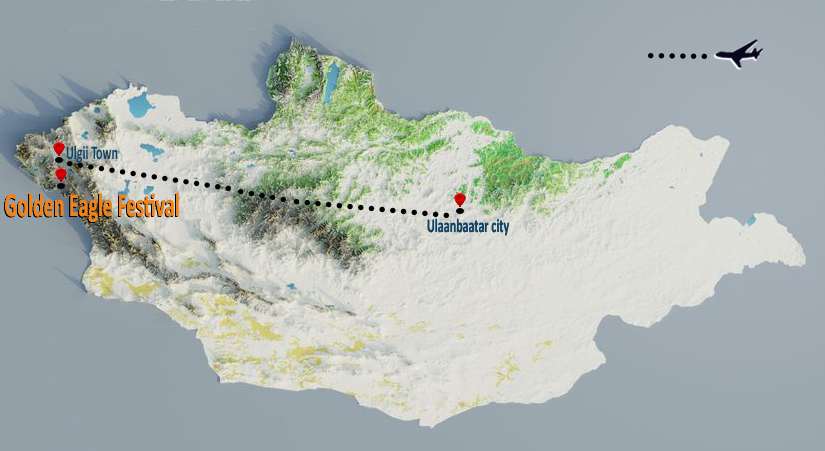 Day-1 ULAANBAATAR CITY
This day is our international arrival day. Depending on your arrival time we can visit the National history museum with priceless treasures of Mongolian history. We will also visit and explore the main square of Ulaanbaatar city called Sukhbaatar square located a short walking distance away from our hotel. An authentic folk concert is also available in the evening.
Welcome dinner. Hotel /L,D/
Day-2 ULAANBAATAR – ULGII TOWN
Today after our check-out from the hotel, we drive to the local airport for our local domestic flight. Our flight destination is Bayan Ulgii, the westernmost province of Mongolia. After landing, we will have lunch at a local Turkish restaurant and try out the delectable local cuisine.
After our arrival, we transfer to a ger camp in the vicinity of Tolbo lake. With a short drive, we will have a welcome dinner with a local Eagle family where we will get to know the lifestyle and culture of Kazakh people and especially how Eagle Masters and hunters train their eagles. After a delightful evening, we will return to the ger camp to rest before the Festival scheduled for the next day. Ger camp /B,L,D/
Day-3 GOLDEN EAGLE FESTIVAL – DAY 1
Our morning starts with a hearty breakfast and a short drive to the festival site.
The festival starts with a parade where Eagle Hunters march proudly with their Eagles sitting proudly on their outstretched arm. Dressed in their traditional clothes, they make a truly amazing sight to behold.
We will spend the whole day at the Festival area bustling with activity. Lunch at the festival site. During the several competitions, we get the amazing opportunity to see and capture on your camera lens the skill of the Eagle hunter and their trusted eagle. Ger camp /B,L,D/
Day-4 GOLDEN EAGLE FESTIVAL – DAY 2
This beautiful morning, we visit the Festival area again as we still have half a festival to finish.
On the second day of the Golden Eagle Festival, masters and eagles who have proven their skill and speed on the first day have more competitions to test who is the best among them. After lunch at the Festival site, experience more equine games such as Kiz Kuar, Tug of war where participants test their skill and speed on horses.
After this amazing experience, we return to Ulgii town from the landing destination of our domestic flight and visit the local open market. Ger camp /B,L,D/
Day-5 ULGII – ULAANBAATAR
This day will have an adjustable schedule as we take a local flight back to Ulaanbaatar city.
Depending on our flight schedule, we will have a free evening with some souvenir shopping and have a farewell dinner with Nomadic Trails. Hotel /B,L,D/
Day-6 INTERNATIONAL DEPARTURE
On this day we transfer you to your international departure.
What's Included
What's Not Included
What is the baggage allowance for a domestic flight in Mongolia?
The baggage allowance for a domestic flight in Mongolia is 15kgs in total: 10kg for check-in luggage and 5kg for hand luggage. For extra luggage, you pay 3000-5000 Tugriks (local currency) per extra kilogram.
What is the electrical plug type in Mongolia?
In Mongolia, electrical plug types vary. Most are Type C and Type E with 2 round holes.
How can I charge my camera and equipment?
For this specific trip, you will be able to charge your phones in the car while we drive from one location to another or at a ger camp. For ger stays, you might not have many opportunities on charging your electronics, so please make sure to bring extra sets of batteries for your camera as well as power banks in your hand luggage.
Do I need to bring my sleeping bag?
For this specific tour – Golden Eagle Festival Tour, you do not need to bring a sleeping bag as you will spend three days in Ulgii town in a ger camp.
Will there be an opportunity to photograph Mongolian Eagle hunters?
As we will be staying right near the festival site, many Eagle hunters can also visit us for dinner as well as take photos with you. Photo shooting after or before the festival is available. Normally it costs by hour or daily. It will be from 15 USD per hour to 40 USD per day per Eagle Hunter.
Can I hold a hunting eagle?
On each Nomadic Trails trip, we offer our clients the best experience possible. Our guides and Eagle Masters would give you instructions on how to hold an eagle properly.
Where to buy handmade souvenirs and gifts?
Western Mongolia has a wide range of handicrafts or souvenirs made by Mongolians and Kazakhs. There are local souvenir shops are available in Ulgii town. All these shop owners bring their goods to the Festival sites. So, you will have a variety of choices in the area.